Last one in the series.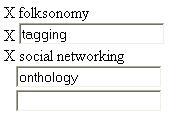 The tagging text turns (auto-magically of course) back into a text box, allowing you to edit it.
This UI might have a chance at encouraging people to use mutags without confusing the tagging database and without adding too much complexity, and, without having to know what is the tags seperator.
Good? bad? stinks? let me know what you think.